Welcome to our Graduate Program
The Statistics Department offers programs of advanced coursework and individual research leading to the MS and the PhD degrees. We offer several means for earning a Master of Science (MS) degree in statistics, as well as a rigorous program leading to the Doctor of Philosophy (PhD) degree. Each program emphasizes BOTH theory AND applications, because a good statistician must have training in both.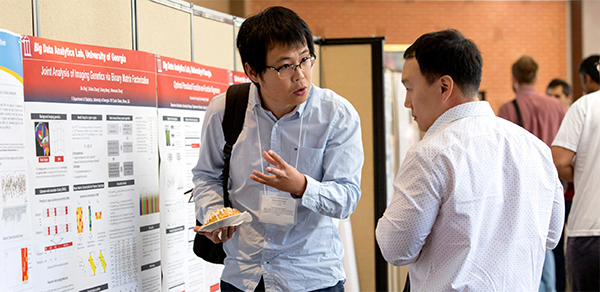 Our MS program emphasizes data collection & analysis, an understanding of the underlying theory, and how one modifies this theory for real-world applications. The real world is a dirty place, and it will not take you long before you find yourself with a set of data that requires some creative insight – grounded in theory!! – for effective analysis.
Program Information and Resources
Graduate Degree Programs
Detailed information about our graduate degrees including the MS and PhD degrees.
Our Graduate Program draws its purpose and strength from the quality of students we produce. Job placements of our doctoral students has been outstanding.
View departmental and Graduate School admissions requirements
A comprehensive guide to graduate student life within the Department of Statistics
Dissertation topics, and job placements of our PhD alumni
Learn more about financial assistance for Graduate Students
An opportunity for admitted domestic Master's students to gain industry experience and financial support from State Farm
Get involved! Learn more about STAT Club and how to join